Now Accepting Vendor Applications for 2023
Step 1. Must email a picture of your booth and products to MMFvendors@gmail.com (All pop-ups must be disguised to include medieval or mythical theme. No metal legs showing. Reference photo below.)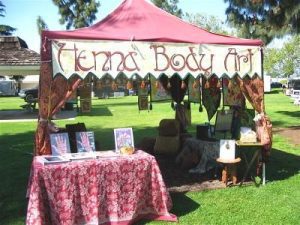 Step 2.We want our area to have the characteristics of a medieval village and need our vendors to portray the part as well. Once your application and photos are received, if you are accepted, we will notify you and give the code to unlock the vendor application.
Step 3. Once you are accepted and you have emailed the vendor application back to us we will send an invoice to the email address listed on the application.
Thank you for your interest in being a vendor at this year's Mythical & Medieval Fest.
Mythical & Medieval Fest is seeking food and artisan vendors appropriate for its 10th annual Renaissance Festival Veterans day weekend.
All Artists and craftspeople are royally invited to display their finest medieval talents and wares in our village. We encourage merchants to demonstrate their skills and explain their Renaissance significance to Faire visitors. In addition we limit the number of merchants in each category to maintain a proper ratio between the number of merchants and the patrons. We encourage participants to bring items with a broad price range to appeal to our varied visitors, which include adults, teenagers, and our specialty: families with young children!
Visitors will be challenged with medieval feats such as fight circle, ax throwing and other tests of strength and skill. Strolling villagers and minstrels add to the Renaissance atmosphere, as do face painters and fortunetellers.
The Mythical & Medieval Fest strives to create a magical experience that patrons, merchants and cast members yearn to return to, year after year. Come celebrate the colorful culture of our renaissance village and join us at our Faire this year! If you have any questions, please CLICK HERE TO CONTACT US.
Please no pets allowed. Services dogs are always welcome. Emotional support animals are not service dogs.
Attendance was around 4,200 for our festival in 2022.